Meet Dr. Torrey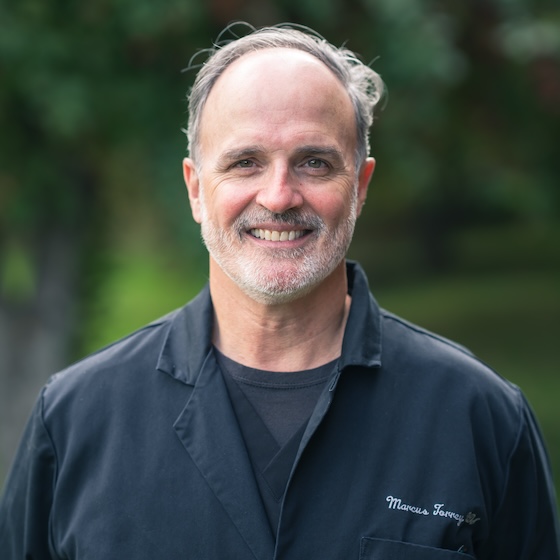 Dr. Marcus Torrey has been practicing in Pullman since 2003 and prior to that in Salem, Oregon.
He was born in Pullman and grew up on a wheat farm about 3 hours Northwest of here. Dr. Torrey attended Washington State University from 1982-85 and then received his degree in Physical Therapy from Northwestern University in Chicago.
After a 12-year career in PT, he returned to Dental School and received his Doctor of Dental Surgery degree from The University of the Pacific in San Francisco. Dr. Torrey is a graduate of the prestigious Kois Center for advanced restorative dentistry.
The Kois Center focuses on evidence-based scientific-driven systems to evaluate and treat the entire mouth. Additionally, he is Fellowship eligible for the Academy of General Dentistry(AGD) as well as the International Congress of Oral Implantology (ICOI).
He is a member of the American Academy of Cosmetic Dentistry.  Dr. Torrey is married to a Southern Belle named Mary Relfe and they have one child together.
They also have one naughty Basset Hound named Ellie and a Wirehaired Pointing Griffon named Phoebe.
Dr. Torrey is all about what is best for his patients.
He will always give you the best possible solution and alternatives for your dental issues. He utilizes best practices and the latest in scientific literature to provide care for both simple and complex cases.
He and his team are dedicated to partnering with their clients to help them make the best decision for their own specific needs regardless of complexity.
His caring nature and humorous personality make his patients feel comfortable and at ease. Dr. Torrey enjoys all phases of dentistry and continues to grow professionally with extensive annual continuing education coursework.
While we partner with some of the best specialists in the region we do take care of many of the aspects of care here in the office.
Patients appreciate not having to make multiple doctors stops to have a procedure completed which makes Dr. Torrey's office a perfect fit for those seeking a solution to complex cases.
When Dr. Torrey is not in the office,  or at an advanced continuing curriculum you will find him with his family or in the woods chasing critters. The Torrey's also enjoy camping, snow skiing, fishing, gardening, and spending time outside at home.
Professional Memberships
Social Memberships
Life Member Washington State University Alumni
Back Country Hunters and Anglers